New report design
04.10.2015
---
Dear customers, we are pleased to present you the new interface of i-Cyprus report page. It is the result of many months of work on the analysis of user behavior, the real needs and users' feedback.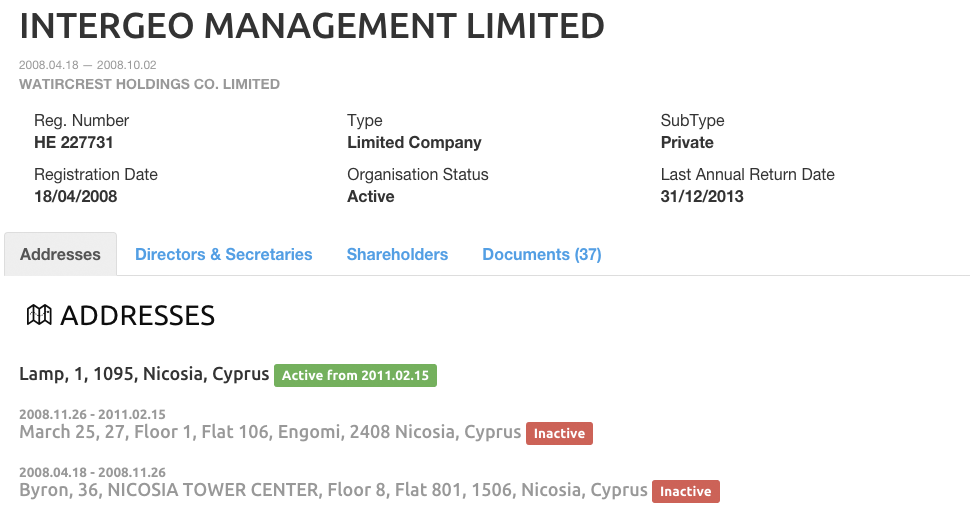 The first change that catches your eye — all information is now divided into tabs.
That is how information has been composed before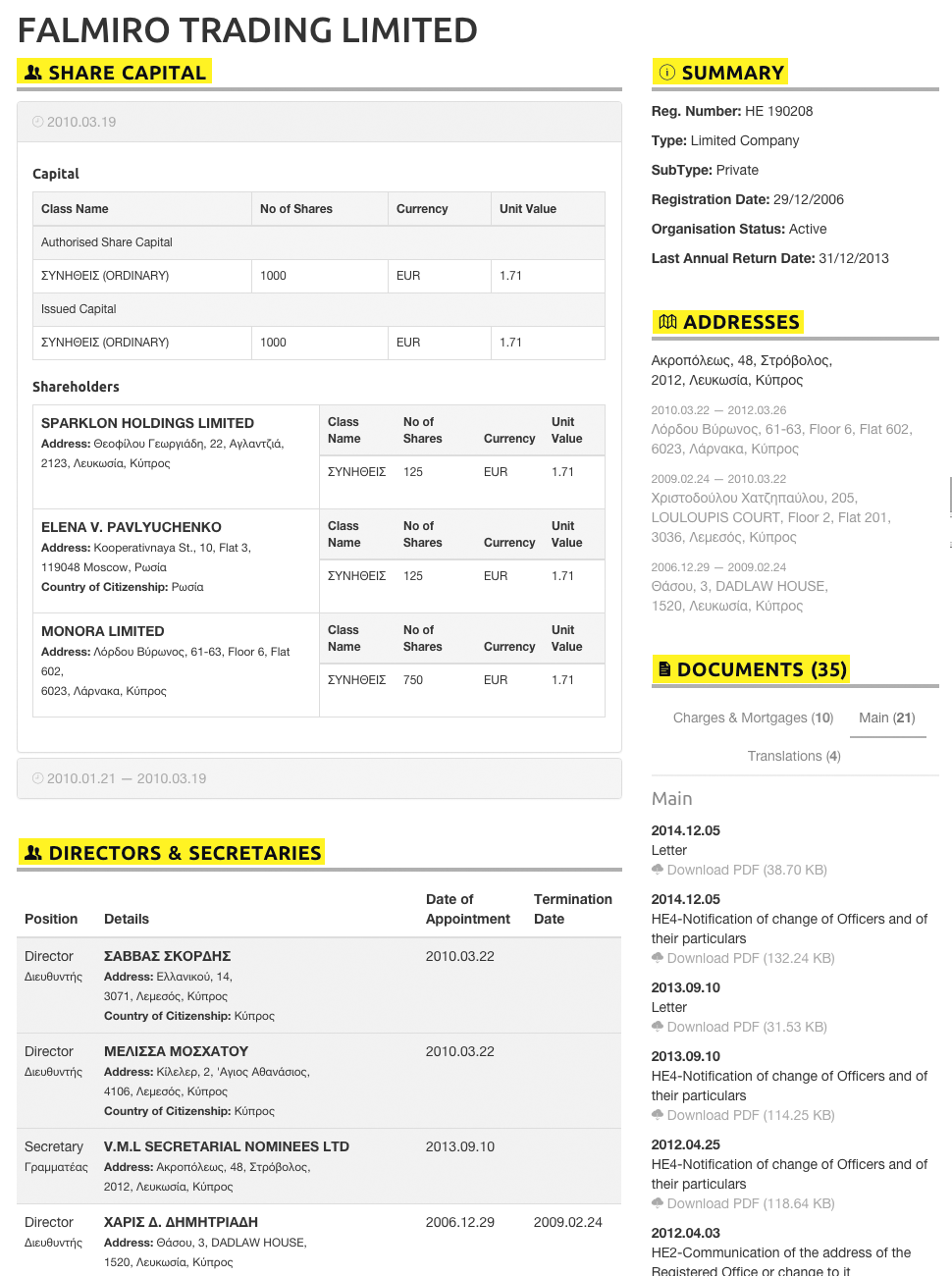 In one page there was information about shareholders, directors, address, a list of documents. There was also the whole historical information.
When we created the first version of the report, we came from the fact that the opportunity to see all the information about the company at a glance is convenient.
As time passed, we have studied in detail the behavior of our users on i-Cyprus website, we received feedback and realized that this concept needs to be improved. We started to think how can we help people perceive the information they need.
The first thing we did — we divided the information.

You will always see the most important information — the current and the previous company names, date of registration, type and registration number.
Company addresses , directors and secretaries, information about shareholders and documents are now available in different independent tabs. This approach allowed us present each type of the information in the most suitable way.
That's how information about company addresses looks now.

Here you can see the approach that we use for the rest of the tabs.
Firstly, the division has allowed us to increase the font and thus improve the perception of information.
Secondly, relevant information is indicated with more contrasting characters, compared to the historical.
Thirdly, we have introduced special badges, which will also allow you to better perceive the data.
Attentive users will notice that addresses are now listed in English. Indeed, before they were in Greek.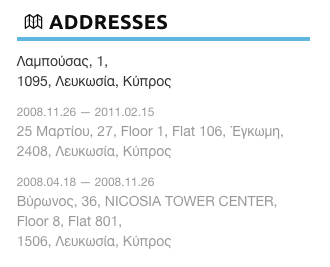 We received a large number of requests to make a full statement in English, and are now pleased to to present you this feature.
Now not only addresses, but also all the information that used to be in Greek is translated to English.

You will see transcriptions of Greek names and translations of country names. This applies to the tabs with addresses, directors and shareholders.
Page with directors and secretaries now looks like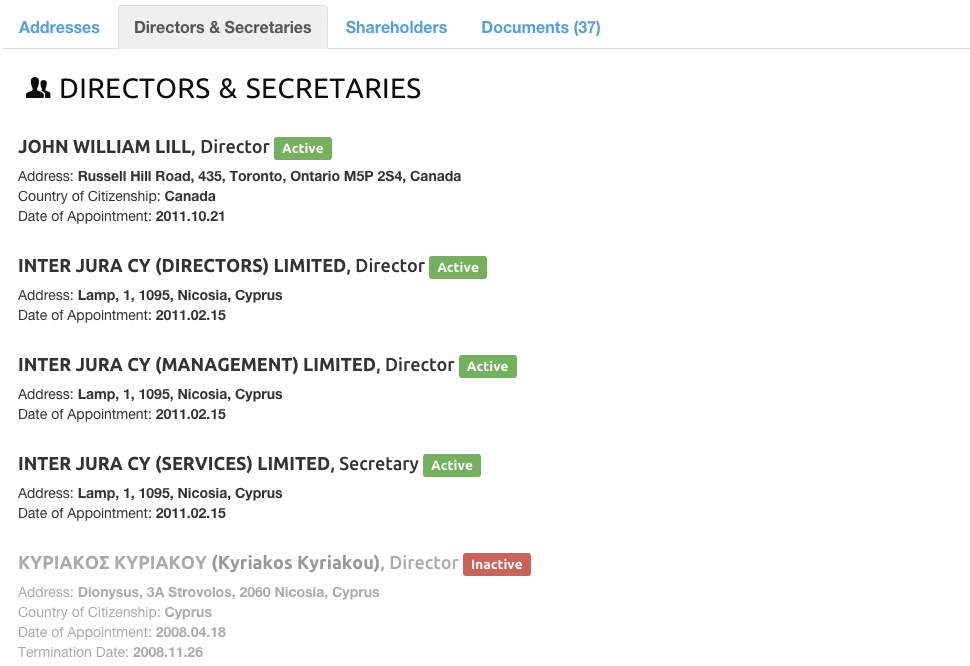 The challenge that we faced — how to make a page with information about shareholders convenient and easy to read. After all, it contains a vast array of data: names, address, nationalities, number of shares, the information on the total number of shares of the company. And we must note that there can be many shareholders and in companies with a long history they can change quite frequently.
See what we've got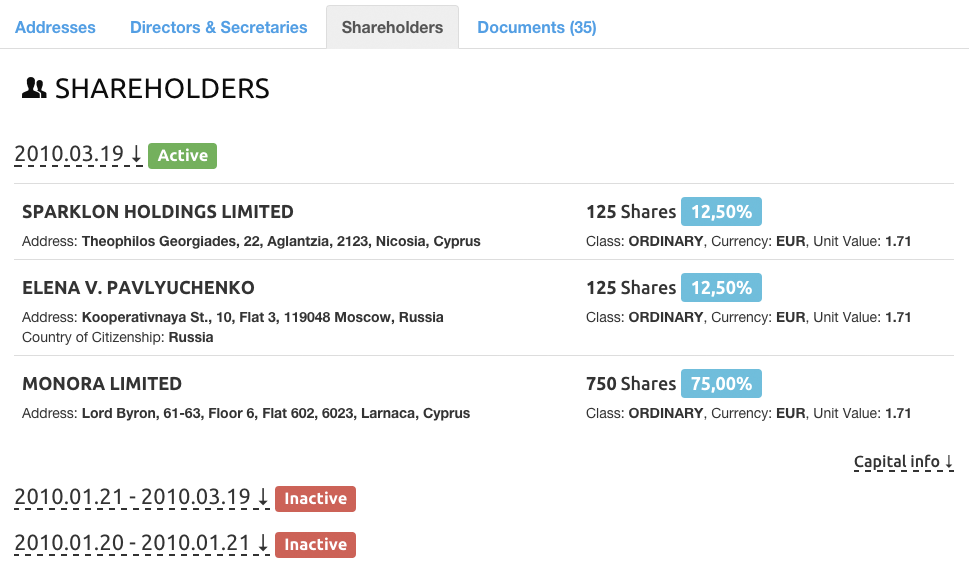 Active and historical information is highlighted with badges as in other tabs.
We have added an important function which did not exist before — now you can immediately see not only the number of shares of a shareholder but also its percentage.
We hid the information about the company's share capital as it took a lot of space but it was not so important. To see it, you can simply click on the Capital info.

The last tab we have improved is documents.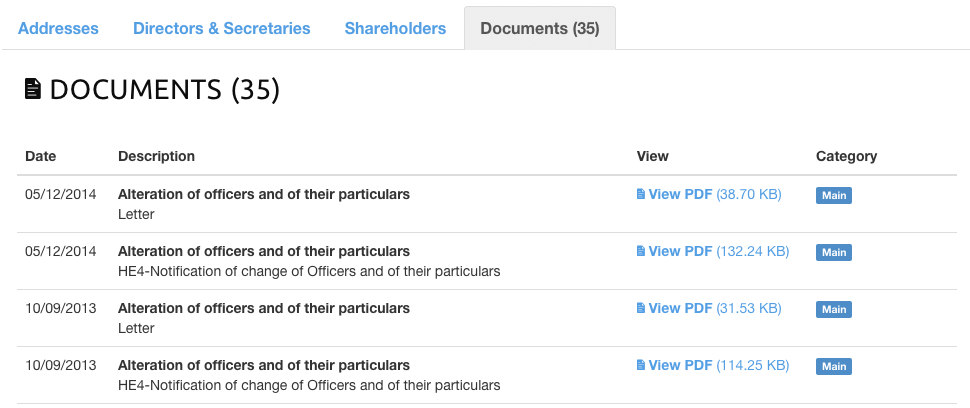 The extra space has allowed us to expand the description of the documents so now you can better understand what kind of a document is in front of you.
We have listed the main innovations that we have done for your convenience. We hope you will enjoy it. If you have questions, comments, or suggestions — please contact us at i-cyprus@i-cyprus.com, our team will answer you.
Sincerely yours,
i-Cyprus team